On November 25th, 2020, the 21st Meeting of Sino-Russian Humanities Cooperation Committee was held by video connection. Vice Premier Sun Chunlan and Russian Vice Premier Golikova attended the meeting, jointly signed the minutes of the meeting and witnessed the signing of five cooperation agreements in relevant fields. At the meeting, Hao Ping, president of Peking University and Sadovniki, president of Moscow State University, signed the Sino-Russian Mathematics Center Joint Training Agreement on behalf of the two universities.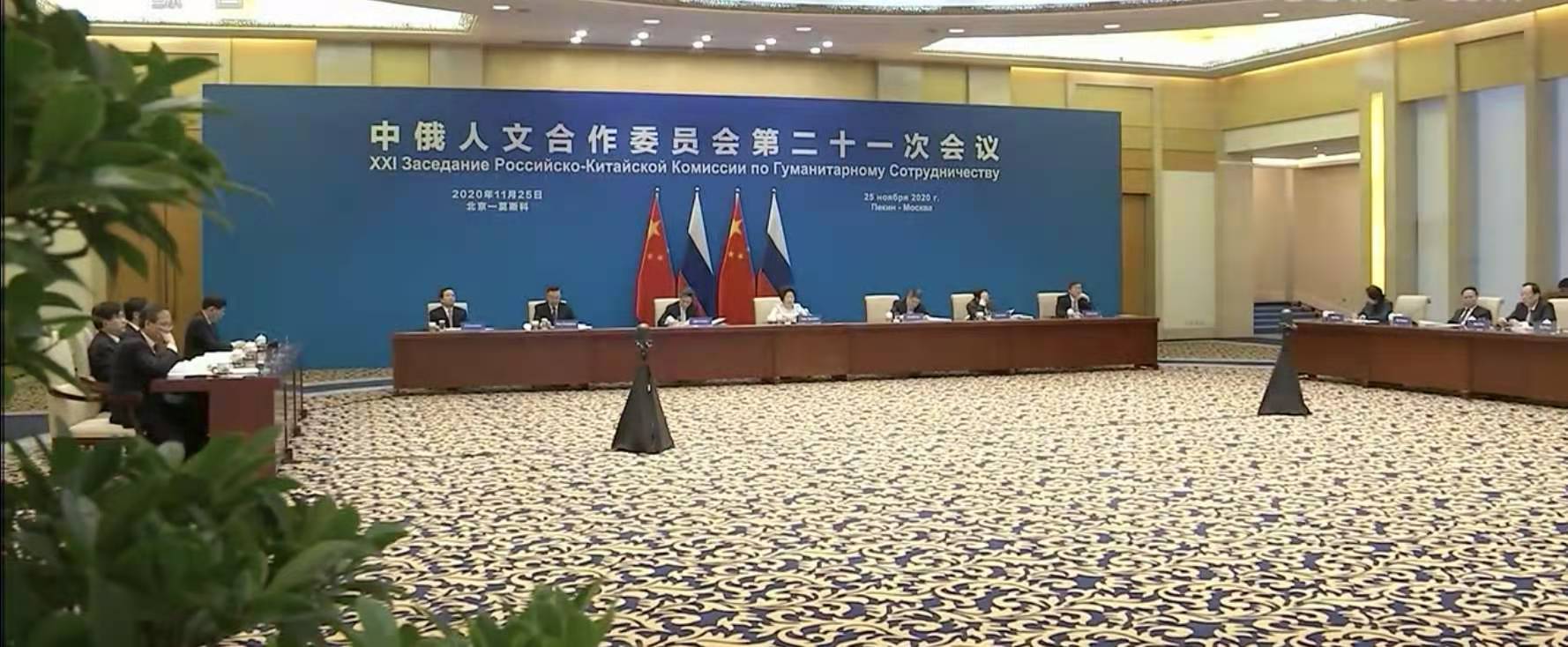 Meeting Site
Sun Chunlan pointed out that after 20 years of practice, the China-Russia cultural exchange mechanism is entering a more mature, stable and dynamic important stage, with closer personnel exchanges and fruitful cooperation in various fields. The annual two-way exchange of overseas students exceeds 10,4000, 12 similar university alliances have been established, covering 636 universities, and the construction of joint laboratories and research centers has been promoted in an orderly manner, Peking University and Moscow University took the lead in establishing the "Sino-Russian Mathematics Center", cultural festivals, film festivals, tourism cooperation, youths sports games, historical archives and literature exhibition and other projects have been successfully held, making important contributions to enhancing the friendship between the Chinese and Russian people and promoting cultural exchanges and mutual learning.
In June 2020, Peking University and Moscow State University led the establishment of Sino-Russian Mathematics Center, inviting top universities and scientific research institutions from China and Russia to form an international joint research cluster of China and Russia for mathematics research. Closely focusing on the needs of national strategic development, Sino-Russian Mathematics Center actively undertakes the scientific research tasks facing the major needs of national development, and carries out applied mathematics research guided by solving practical scientific and technological problems. At the same time, the center also actively strengthens talent training. According to the construction plan of Sino-Russian Mathematics Center, universities in the two countries strive to explore innovative talent training methods: optimize the training structure of students at different levels; integrate educational resources from multiple parties, formulate interdisciplinary talent training plans, and explore and establish a new training mechanism for high-level compound talents, who are urgently needed by the industry and have outstanding abilities. This time, Peking University and Moscow State University signed the joint training agreement, which aims to further deepen cooperation, expand exchanges between China and Russia in the field of mathematics sciences, promote the joint training of doctoral students, master students and senior undergraduate students, gather world-class experts and scholars in the field of mathematics, and cultivate top mathematics talents with pioneering spirit, innovative consciousness, global vision and international competitiveness.