On the afternoon of December 8th, 2020, in order to commemorate the 25th anniversary of Beijing Moscow marriage, the round table on scientific and technological innovation of the 25th anniversary of Beijing Moscow marriage was held in China Hotel in the combination form of online and offline.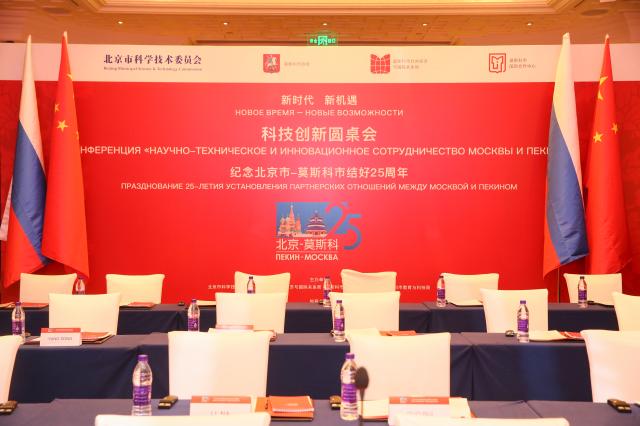 Meeting Site
In 1995, Beijing and Moscow officially established a sister city relationship. At the node of the 25th anniversary, the two sides reviewed the fruitful achievements made in the fields of economy, society, culture and city management, and planned for future cooperation. Academician Zhang Jiping, director of Sino-Russian Mathematics Center, and Professor Chen Dayue, dean of School of Mathematical Sciences of Peking University attended the meeting. Academician Zhang Jiping made a keynote speech on the construction of Sino-Russian Mathematics Center.
Academician Zhang Jiping pointed out that both China and Russia are big countries in science and technology, and the strategic fit in the field of science is high. Chinese and Russian universities, especially Peking University and Moscow State University, have continuously deepened cooperation in talent training, basic research, cutting-edge science and other fields and achieved fruitful results. Sino-Russian Mathematics Center will be committed to promoting the cooperation between China and Russia in the field of mathematics, promoting personnel exchanges, inviting high-level talents in the field of Russian mathematics to come to China for exchange and cooperation, and sending students to each other's countries for further study.
Zhang Jiping Attended and Addressed the Meeting
Chen Dayue Attended the Meeting
Alexander Zheglov, Professor of the Department of Mathematical Mechanics of Moscow State University, is very optimistic about the prospects of scientific cooperation under the framework of Sino-Russian Mathematics Center. At the same time, he said that 2020-2021 is the "year of Sino-Russian scientific and technological innovation", the first national theme year after the bilateral relation enters a new era, a major measure for the two countries to plan scientific and technological cooperation from a strategic height, and also indicates that Sino-Russian cooperation in various fields will receive stronger scientific and technological support, and the road of cooperation will be wider and wider.
Alexander Zheglov Made a Speech
As a cooperation platform in the field of basic science, Sino-Russian Mathematics Center can actively interact with the field of Russian humanities and sciences by mobilizing domestic advantageous forces, so as to drive the development of Sino- Russian education cooperation, explore new channels, and make important contributions to promoting cultural exchanges and creating scientific and technological research achievements.
Relevant Media Reports:
Xinhua News Agency, New Media: Chinese and Russian People Talk about Scientific and Technological Innovation Cooperation between the Two Capitals