Time passes through 365 days and nights
The builders of Sino-Russian Mathematics Center have the mission on their shoulders and are in a hurry
Bear the ardent entrustments in mind constantly
Serve the country through science and technology without a day forgetting
Build teams and focus on the frontiers
Set up bases and prosper academics
The light of wisdom of mathematics is endless
The figure of young men on the long journey is projected on the blueprint of a powerful mathematical country
77 Sino-Russian colloquium seminars are the persistent belief of the organizers
Science has no borders, and collaborating to tackle key problems is the common direction of all scientists
Make a solemn commitment to the country
Place great enthusiasms on the future
2022, on our voyage there are
stars and sea, a broad journey
On the approaching of the new year, the leaders of Sino-Russian Mathematics Center and Russian experts expressed new year wishes and heartfelt blessings to friends from all walks of life at home and abroad.
■ Director of Sino-Russian Mathematics Center
■ Academician of the Chinese Academy of Sciences
We sincerely thank the Chinese and Russian governments and leaders, Peking University, Moscow University and all walks of life for their concern and support for Sino-Russian Mathematics Center. We will work harder with Chinese and Russian mathematicians to strive for major theoretical breakthroughs, promote interdisciplinary integration and application, build an international cutting-edge school, and forge a new pattern of international scientific and technological cooperation and exchange.
■ Deputy Director of Sino-Russian Mathematics Center
■ Academician of the Chinese Academy of Sciences
I sincerely wish Sino-Russian Mathematics Center, an important platform for international mathematics exchange, becomes better and better!
■ Deputy Director of Sino-Russian Mathematics Center
■ Dean of School of Mathematical Sciences, Peking University
I hope that Sino-Russian Mathematics Center will make greater achievements in 2022 and further improve its scientific research cooperation with major Russian universities. The center will continue to be committed to the construction of an international platform for mathematics exchange and contribute to the cultivation of first-class mathematics talents of the two countries!
■ Deputy Director of Sino-Russian Mathematics Center
■ Director of Key Laboratory of "Mathematics and Its Applications" of the Ministry of Education, Peking University
In the past year, although the epidemic continued, the cooperation between China and Russia in mathematics was advancing steadily. In the spring and autumn semesters, we invited Russian professors to teach 7 courses, and nearly a hundred excellent mathematicians from China and Russia were invited to give reports at the three colloquiums of Beijing-Moscow, Beijing-Saint Petersburg and Beijing-Novosibirsk. We have signed talent training agreements with Moscow University and HSE University. In 2022,Sino-Russian Mathematics Center will further promote more systematic cooperation between mathematicians of the two countries in pure mathematics, applied mathematics, mechanics and statistics, and promote friendly exchanges between the two countries.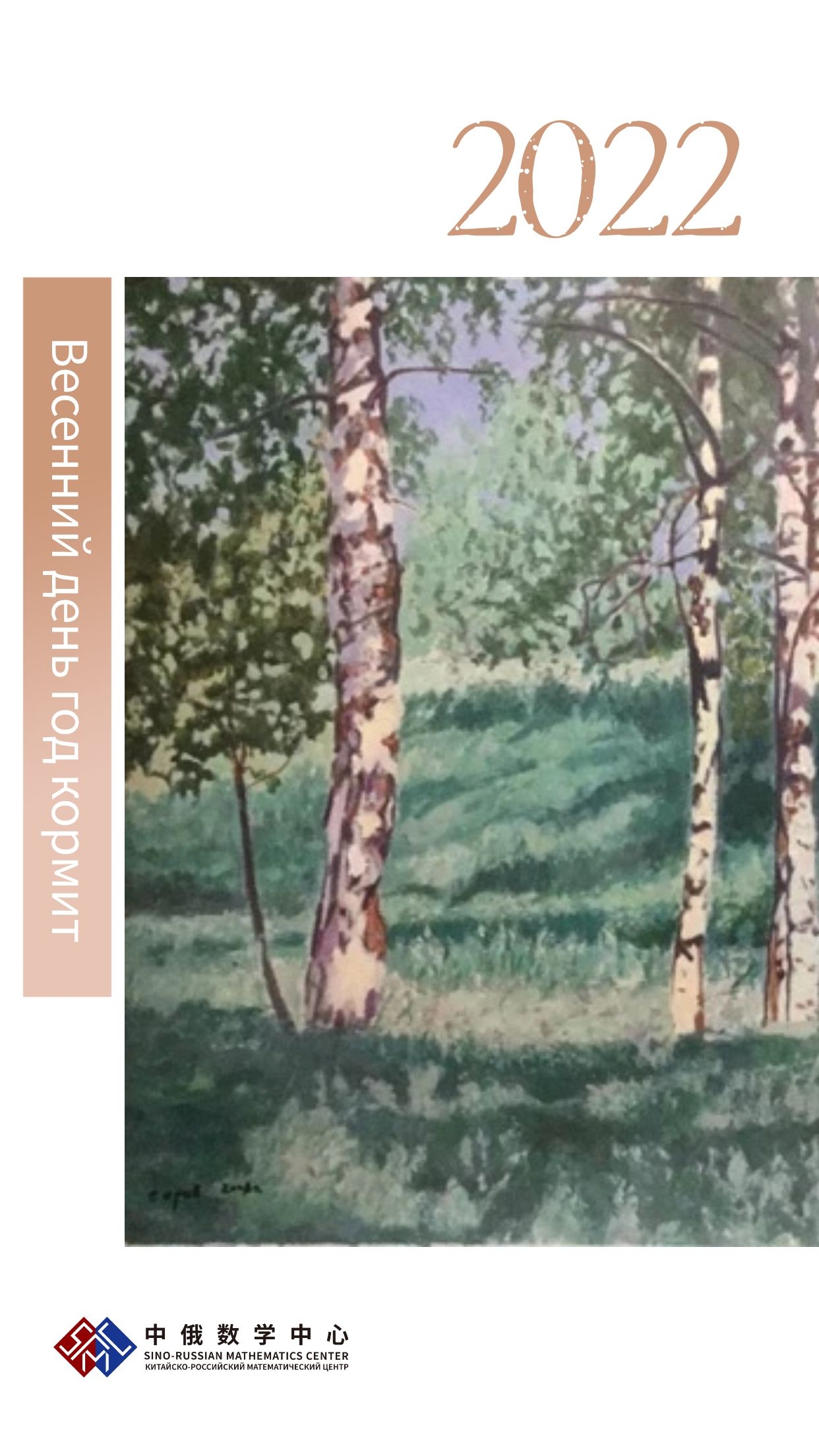 ( Note: The left side of the poster is a Russian proverb, which means that making the plans for the year in spring. )
■ Professor of Steklov Mathematical Institute
■ Part-Time Professor of Moscow State University and HSE University
I would like to use this opportunity to congratulate you with the New Year 2022 and wish all the best to you and your relatives.
Needless to say that it was a very hard year for all of us. We have lost some of our colleagues, many conferences were cancelled or moved to the online format. We were forced to cancel also many of our scientific visits.
However, our mathematical like and, in particular our bilateral relations did not stop. In particular, Beijing-Moscow mathematical colloquium worked intensively during the whole year. Many Chinese mathematicians took part in mathematical seminars in Russia and vice versa.
I hope that the next year will be more friendly to us and we shall have possibilities to meet in person.
Wishing all the best to all of you in 2022.
■ Academician of the Russian Academy of Sciences
■ Professor of Novosibirsk State University
I am very pleased to wish you a Happy New Year!
I am confident that the Sino-Russian Mathematical Center will continue to develop successfully in the coming year.
Since the end of this year, the Beijing-Novosibirsk Seminar on Geometry and Mathematical Physics has been held within its framework. He started working online at the very beginning of the pandemic. But we also have new ideas for cooperation.
I wish you all success, good health and new spectacular results!
■ Head of the Department of Mathematics, HSE University
On behalf of your Moscow partners - faculty of mathematics at HSE - I would like to wish you all the best in 2022!
The leaving year was indeed very special for us - you and us officially became friends and partners.
It seems that we established collaboration that will become a base of our future development as scientific and educational centers.
I hope that our students and professors will gain a lot from this agreement already in 2022 due to the mutual visits and joint research activities.
We will be waiting for you and your students very impatiently here in Moscow and will be glad to welcome you at ICM and its satellite events - many of them will happen here, in Moscow.
I wish you happy New Year with many challenging mathematical problems and beautiful solutions for them!
■ Sobolev Institute of Mathematics of the Siberian Branch of the Russian Academy of Sciences
■ Director of Mathematics Center, Novosibirsk University
May the coming 2022 year be a year of your success, prosperity and bright achievements for you and your institute!
We already have a joint seminar between Mathematical Center in Akademgorodok and we believe that in the new year we start our new joint projects in mathematical education and research
Andrey Mironov
■ Director of Sobolev Institute of Mathematics, Novosibirsk University
Let's 2022 year brings you good health, good luck, new scientific achievements, the embodiment of all your ideas and plans, so that you always have optimism and inexhaustible energy.
Let's 2022 open up new development prospects for The Cino-Russia Math Center.
Farewell the old year and welcome the new year,
with green fermented wine and red burning stove

We share the time, our friendship is like spring

Wish you all a happy New Year

Healthy, safe, hardworking and diligent